BOOtanical - A BOOst to Food Banks

Halloween BOOtanical Success Story
BOOtanical Festival was amazing this year thanks to over 100 volunteers who came out to support the festival. Over 1400 people attended the festival.
As in the past two years, admission to BOOtanical was nonperishable food items to be donated to our area food banks. Through the generous donations of our guests food items were donated to the three area food banks: First United Methodist Church, First Christian Church and the New Haven Ministries.
Autumn Color in the Gardens
Photo courtesy of Carey Borgens.

Fall is my favorite time of the year in the garden. Most of our summer annuals are still in bloom when suddenly the temperatures begin to drop and fall color pops! So you get the best of both worlds - summer and fall color with the added bonus of pleasant temperatures. This year is no exception. The color in the Gardens is spectacular.

Holiday Festival
Saturdays, December 4, 11, and 18, 1:00 pm to 9:00 pm




Thursday, December 2, 5:30 pm to 8:30 pm



It's beginning to look a lot like Christmas at Clark Gardens. The third annual Holiday Festival is just around the corner. Activities are planned for the first Thursday of the month, December 2nd and the three Saturdays before Christmas, December 4th, 11th, and 18th.


Wonderful & Fun Activities Include
Horse drawn hay rides
Thousands of sparkling lights
Holiday music
G-scale model trains
Santa
A live reindeer (What a photo op!)
Brand New Activities for This Holiday Season




Shopping at our Christmas Mart


Area-wide vendors will be on hand the first three Saturdays of the month. Relax, have a cup of hot chocolate, enjoy the Christmas music and entertainment and take in the beauty of Clark Gardens as you shop in the festively decorated heated tent. If you are interested in joining us on one of those Saturdays as a vendor please complete the registration form as soon as possible.



Kaleidoscope of Trees


Support your favorite charity by voting for their holiday tree. This event is a great fund raising opportunity for nonprofits. Clark Gardens will provide trees for organizations to decorate. During the month of December garden guests will vote for their favorite tree. Cash prizes totaling $1000.00 will be awarded to the top three trees. Businesses or individuals may also participate by "declaring" their favorite nonprofit. All prize money will be donated to charity or nonprofit organizations. This competition is limited to the first 15 entries.
Hurry! Use this form to sign up today!



Community-Wide Bake Sale


Are you running out of time and have out-of-town guests who are on the way? Don't panic, we can take care of your holiday baking needs. Clark Gardens is hosting a community-wide bake sale on Saturday, December 18th. Booths will be provided free of charge to nonprofit, civic, school or church organizations. If you would like a booth register today.



Baking Contest


Enter the baking contest on December 18th and have an opportunity to win great prizes donated by Wal-Mart. Divisions include cakes, pies, cookies and candy. This is a fun way to share your favorite recipe. Baking contest registration form.



Community-Wide Caroling


Jim Clayman with the First Baptist Church will be leading a community-wide caroling party on Saturday, December 18th. If you would like to participate, contact Jim or Lyn.
Jim Clayman: phone 817.325.2523, email jclaymen@fbcmwtx.org
Lyn Butcher: phone 817.682.8451, email lyn.butcher@yahoo.com



Supper with Santa


A highlight of the festival is the Supper with Santa Saturday night dinners. Both adults and children love this event. Guests will enjoy a beautifully prepared holiday meal of turkey and ham with the traditional side dishes. Santa makes a surprise appearance and children may visit with Santa in an unhurried setting offering that perfect picture opportunity. This is a favorite holiday event and sure to sell out. Make your reservation today!

Reservations are required

and you may register on our website.





The Garden Gift Shop - Holiday Shopping



Looking for that special gift to give someone? Checkout the wide variety of items in our gift shop. There's something for everyone on your list. Visit our online gift shop for a small sampling of what's in the store at the Gardens.



Garden Memberships


Clark Gardens memberships make a delightful gift that can be enjoyed throughout the year. Memberships will be festively wrapped with 2 iris rhizomes and a package of poppy seeds (an added $20 value). Learn more about the Garden memberships.



2011 Calendars - Lovely Gift, Great Price




Available Online!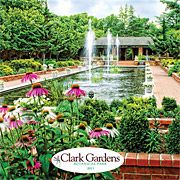 The 2011 Clark Gardens calendars feature beautiful images of Clark Gardens throughout the changing seasons. This is a 12-month calendar, displaying a different photograph of the Gardens each month. When open, the calendar is 11" wide and 22" tall.

Great for brightening any wall and gift-giving too.

The 2011 calendar is available for view and purchase online and in the Gift Shop at the Gardens.
Non-member price is $12.00.
Clark Gardens members, $10.80.


We look forward to seeing you in the Gardens.


- The Clark Gardens Family

Clark Gardens is a 501(c)3 non-profit organization.
Website and email marketing production by Pro Epic.

If you would like to receive future editions of our newsletter and haven't yet subscribed, we welcome you to: