BOOtanical Park

October 31, 2010
4:00 pm to 8:00 pm
On October 31st, Clark Gardens becomes BOOtanical Park - a marvelously fun and safe place for kids of all ages to enjoy Halloween.
The BOOtanical is also a time we participate in a community-wide food drive benefiting our three area food banks in Mineral Wells: First Christian Church, First United Methodist Church, and New Haven Ministries. Bring a non-perishable food item as a donation and you receive free admission to our Halloween festivities on October 31st.
There were more than 1,200 visitors who attended BOOtanical last year and filled three pickup trucks with food for the food banks. This year's BOOtanical promises to be even better.
There will be:
Activities designed for children 12 and under.
Trick or Treating
Arts & Crafts
Games
Ghostly Movies
Pet Costume Contest
People Costume Contest

DJ Music
Food & beverages.
Walk through the Enchanted Forest and learn about the life of animals after dark.
If you or your organization would like to volunteer to help the little goblins at the activity and game booths, please contact us and let us know. 940-682-4856

Visit our website for more Halloween BOOtanical details.

November Classes
Fall Floral Design
- Nov 2, 2010
Ever wanted to make your own Thanksgiving or holiday centerpiece but didn't know where to start? Andrea, a staff member of Flowers on the Square in Fort Worth, will walk you through the process. Students will go out into Clark Garden with Andrea and will "harvest" their natural materials to make a centerpiece.
Basket Weaving with Natural Plant Material
- Nov 6, 2010
Nature is an exciting source of basketry design as well as a source of materials. Learn about grasses, vines, trees, and shrubs that are useful as you weave your own basket from nature. You will take home your own basket - a work of art!
Glaze Paint a Bisque-Fired Bowl
- Nov 13, 2010
Adults only, please. Participants will paint a bisque-fired bowl which has been hand thrown. Following the firing process you'll have a beautiful bowl to decorate your home or give as a gift.
Visit our website for
these classes and more
, class dates and to register online.



Beautiful 2011 Clark Gardens Calendars




Available Now

!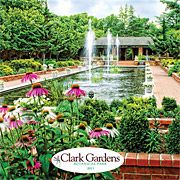 The 2011 Clark Gardens calendars have arrived and feature incredible images of Clark Gardens through the changing seasons. This is a 12-month calendar, displaying a different photograph of the Gardens each month. When open, the calendar is 11" wide and 22" tall.

Brighten any wall in your home or office. They are great for gift-giving too. See all the calendar pictures.

The 2011 calendar is available for purchase online and also in the Gift Shop at the Gardens.

Non-member price is $12.00.
Clark Gardens members, $10.80.


We look forward to seeing you in the Gardens.


- The Clark Gardens Family

Clark Gardens is a 501(c)3 non-profit organization.
Website and email marketing production by Pro Epic.

If you would like to receive future editions of our newsletter and haven't yet subscribed, we welcome you to: