Fall Festival
October 2, 2010
10:00 am to 3:00 pm

Fall is definitely in the air. The days are gorgeous with the warm sun and cool breezes. It's a great time to visit the Gardens and spend time with family and friends.

Enjoy the wide variety of activities.

Half Marathon and 5K (runs start at 8:00 am)

Gardening speakers include Chris Wiesinger "The Bulb Hunter" and Dr. Bill Welch, award-winning author
Story time with five award-winning children's book authors
Texas Department of Texas Quilt Exhibit
Plant sales including native plant sales
Live entertainment and demonstrations
Children Activities - clowns, pumpkin painting, pumpkin golf and pictures in the pumpkin patch
Exhibit of the winning 2010 Clark Garden Photography Contest pictures
Food and beverages
The Entire 35-Acre Gardens Are Yours To Experience
There's something for everyone. See you soon!

Visit our website for Fall Festival details.
October Classes
Rain Water Harvesting
- Oct 5, 2010
Learn how to design and install a rainwater harvesting system.
Sculpt a Terracotta Pumpkin
- Oct 9, 2010
A fun seasonal project. Appropriate for all ages.
Nature Photography
- Oct 14, 2010
Giving folks of all ability levels the opportunity to improve their outdoor photography.
Site Series Plein-Air Workshop
- Oct 23, 2010
For teens and adults. Capture the changing seasons in this workshop series, using this form of painting done outside rather than in a studio.



Beautiful 2011 Clark Gardens Calendars




Available Now

!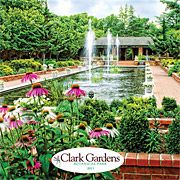 The 2011 Clark Gardens calendars have arrived and feature incredible images of Clark Gardens throughout the changing seasons. This is a 12-month calendar, displaying a different photograph of the Gardens each month. When open, the calendar is 11" wide and 22" tall.

Great for brightening any wall and gift-giving too.

The 2011 calendar is available for purchase online and in the Gift Shop at the Gardens.
Non-member price is $12.00.
Clark Gardens members, $10.80.


We look forward to seeing you in the Gardens.


- The Clark Gardens Family

Clark Gardens is a 501(c)3 non-profit organization.
Website and email marketing production by Pro Epic.

If you would like to receive future editions of our newsletter and haven't yet subscribed, we welcome you to: